If your credit/debit card account is not directly in US dollars additional charges over and above the MaxCut fee may be incurred - these charges relate to the foreign currency conversion fee (which can be charged by either your financial institution or by 2Checkout should you select to convert the amount to your local currency).
1) When your financial services company converts USD amount to your local currency
When you select to pay in USD with a card thats default currency is not in USD, your financial service provider will charge you a currency conversion fee over and above the amount your pay for MaxCut - this is usually between 2% to 5% of the value of the transaction value.
Please note this is charged by your financial institution and the card scheme - Visa, MasterCard and American Express - that you belong to.
Unfortunately we (MaxCut) have no control over what the exact fee will be or what your percentage charge will be - you will need to deal directly with your financial institution to find this out.
2) When you ask 2Checkout to convert the USD amount to your local currency
When paying using 2Checkout and you select a charge currency other than USD (see red arrow below), 2Checkout will charge a fee over and above the MaxCut fee to convert the amount from USD to your local currency.
In essence 2Checkout is providing the foreign currency conversion facility instead of your financial provider. Depending on the currency this fee can be anywhere between 3% & 5% above the daily bank exchange rate.
To avoid being charged the currency conversion fee by 2Checkout, make sure you select the "Charge Currency" as "USD - U.S Dollar". This will then revert to you being charged the conversion rate by your local financial service provider.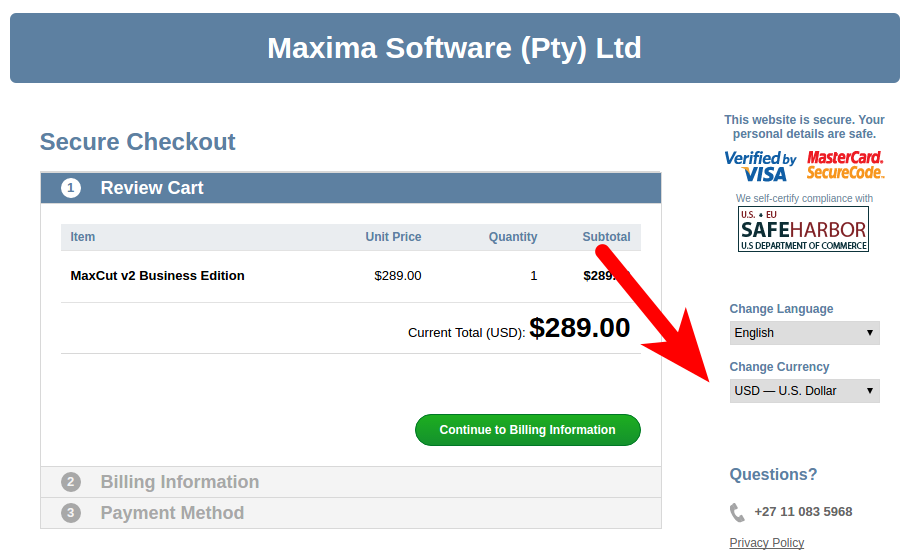 ---
Worked Example Calculation
If your bank account were in ZAR (South African Rands)
On the day of the billing if the rate of exchange were between USD and ZAR were 14.59
A MaxCut Business Subscription at $19.95 would cost you 291.07 ZAR (19.95 * 14.59)
Add Foreign Currency Conversion Fee (assume 5%) = 305.62 ZAR (291.05 ZAR * 5%)
Note the difference between the 291.07 and 305.62 (14.55) is the amount your financial institution and card scheme are charging and does not go to MaxCut.