Should you require an offline activation for a license, this request will need to be sent to our support team. Once in MaxCut, please follow the instructions below
1. Go to Help -> License Information
2. Click on License Code
3. Paste your license code and click Activate License
4. The below window should appear. Click on Yes

5. The below window should appear. Click on Yes

6. The below window should appear. Click on Generate Offline Activation Request File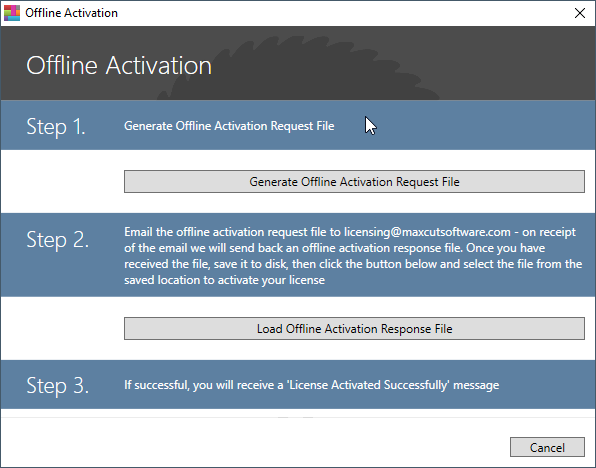 7. Select a location to save the file and save it.
8. Email the saved file to support@maxcutsoftware.com
9. Upon receipt of this email, we will respond with a reply file. Save this new file in a location where you can find it. Follow steps 1 to 5 again. When you reach step 6, choose the option to Load Offline Activation Response File. Select the new file that you have saved, and click Open. Your offline license should now be activated.
*Please note that due to time zones differences and as this is a manual process, the offline activation is not an immediate process as it requires activation by one of our technicians. We will send a reply to you as timeously as possible.